In this column, we will explore what in the fuck kind of twelvefold mongrel Ichigo has become over the course of the series. No, I'm not talking about the art evolution
HELLO! LIVING INSIDE SKIN IS A HUMAN ACTIVITY, CORRECT, YOU FRIENDS? BODIES ARE NOT CURRENTLY SNATCHED
For all Ichigo interacts with his friends, this would seem perfectly normal to them
No, I'm talking about Ichigo's greedy assimilation of essences!
I keep getting these prank-ass calls from somebody claiming to be my "real" dad. Ahahahaha

, I HAVE LIKE FIVE OF THEM ALREADY
It's hard to believe, but for the majority of his life Ichigo believed he was merely human, and in fact did not know of any other beings besides the souls of dead people. Then through the most monstrous Shyamalan twist of all time, Ichigo would come to unlock all the goodies inside of him to transform from a relatively happy teenager to a miserable messiah.
I wanna be a firefighter
That's good, Amanda
Well I wanna be a superhero
Teacher, I wanna be a space ninja
I wanna be a GOD OF DEATH
...Jimmy, go see the counselor
Don't you be forming spikes at me, man, I promise this time I'll REALLY get to you know before I break you
When a man becomes a shinigami, he sprouts a big black sword. Then after tempering his big black sword in clashes with many men, the sword can grow and grow! This is the idea behind the soul cutter, a separate being one must communicate with in order to reach one's fullest psychopomp potential.
Though given the ability to access the powers of a death god from someone else, this did not make his need to foster a relationship with his own sword spirit any weaker. And it was only through his cooperation with the man who suffers the rain when Ichigo is sad that he took down one of the biggest threats to rescuing the woman who saved him.
Call his name, Ichigo!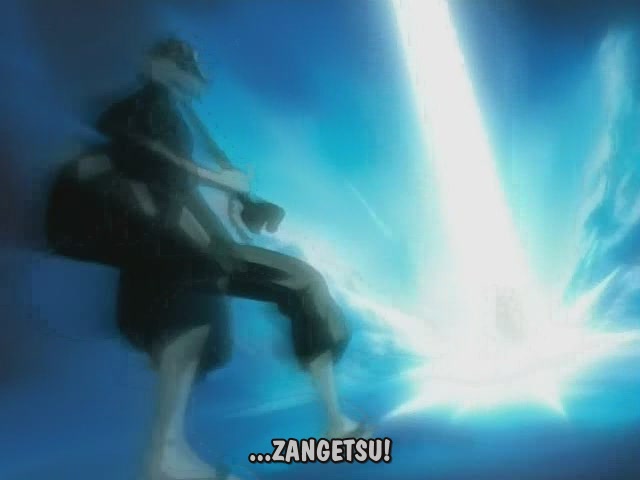 I MEAN YUUHABAHHAAAAAAAA
!!
STAGE 3: HUMAN HOLLOW SHINIGAMI
Ichigo sit still for your eye exam
Due to the strange circumstances of his shinigami training, Ichigo became a hybrid hollow named a Vizard. The hollow occupies the same inner zone as Zangetsu, and lives up to the rapacious reputation of hollows by promising to one day gain control over Ichigo's mind, body and soul. Zangetsu and Hollow Ichigo are in fact cut from the same spiritual cloth.
Quincies hate Hollows but have no qualms with absorbing them
There's actually a whole buttload of Vizards running around. And Ichigo seemed to be the only one to experience any problems with, well, a certain episode
I'm here for the support group. I admit I have a problem.
It's probably because those other Vizards didn't experience any sort of hardshup while they chilled doing nothing in particular for a century. Meanwhile Aizen was permitted to conduct more insane and horrifying hollowification experiments without impediment.
Whiling your days in a dark warehouse must have some upside I'm overlooking
Hey remember when Ichigo and Ishida were having a Hollow killing duel and they infested Karakura, remember how the Vizards were nowhere to be seen? It's because they were busy keeping their inner Hollows at bay with porn mags
STAGE 4: HUMAN FULLBRINGER (HOLLOW?) SHINIGAMI
Ichigo sacrifices Zangetsu (and maybe his Hollow self??) to take down Aizen once and for all in a heavily sedated climax that no one could take seriously, rendering Ichigo into a puny human once again--but with a scrap of his old powers intact? Honestly it's very muddled from here on out, and it's not going to get any less confusing by a long shot.
As a stepping stone to regain his shinigami powers for the second time, Ichigo is persuaded he needs to unleash his inner fullbringer capabilities. Ichigo summarily proved that his true power is to be cloaked with power. Dude, if you want a "garb of power" just join the clergy or break it big on Wall Street or something
If only mommy could see me now
This fullbringer form is then stolen from him, but we're going to count it anyway because there's nothing stopping Ichigo from simply training a little to regain his fullbring. Maybe this time he'll even name it. Let's throw it up on the board
Can't be a Fullbringer without a little eyeball mutilation!
There, now he's a human fullbringer shinigami hollow! Did I mention he's actually all of those things from BIRTH and none of the justifications from earlier in the series were anything more than a SMOKESCREEN for his TRUE HERITAGE
STAGE 4: HUMAN QUINCY FULLBRINGER HOLLOW SHINIGAMI
Fullbringers are made when a mother narrowly escapes a Hollow attack. Ichigo's mom was particularly unlucky in that she evidently narrowly escaped a Hollow attack and then ended up dying to one anyway--this time with her fullbringer son watching! Or was Ichigo only a fullbringer due to the scrap of hollowness in him? Who can keep this shit straight anymore. The point is that while Ichigo was a shinigami from BIRTH from his father's side, he was also a QUINCY from BIRTH from his MOTHER'S side. (He was presumably also a human from birth, future retcons notwithstanding).
Let's plug in his grand Quincy heritage
When I first looked in the toilet after a particularly arduous dump and discovered an energy cross floating there, I should have taken it as a sign that I was Quincy by blood. What a fool I was
Don't look now, Zangetsu, but with this influx of powers pretty soon Ichigo won't miss you!
...Oh.
I'm very happy about my favorite aspect of the series (Zampakutou and their relationship with shinigami) being retconned and cast aside so Zangetsu can have only ever amounted to cheap twist. You see, Zangetsu was Bach all along!!
There's many, many inconsistencies I could bitch about here, but I'll leave it to the Daz to avenge me while I die from lameness.
I will, however bring up one thing. If he was only ever biding his time in Ichigo's soul to kill him the moment he developed shinigami powers, suppressing him all the while, but then he
came around
, then why continue hiding his true identity? That means Ichigo and Zangetsu were never REALLY in sync. They never REALLY trusted each other. In the end all Zangetsu was, was a stranger. Well I hope he was delicious when you swallowed him, Ichigo. I hope you're happy YOU'RE the blade now. Even though the last thing you need is more loneliness.
AND ANOTHER THING: WHERE DID THE NAME "ZANGETSU" EVEN COME FROM THEN!?
FUCK YOU KUBO
STAGE 5: HUMAN QUINCY FULLBRINGER HOLLOW SHINIGAMI FOX PERSON
As long as we're throwing everything to the wind, why the fuck not? Kubo's pulled the rug out from under us so fast I don't even think there's a floor anymore.
Congratulations, Ichigo. You're a fox person now.
Not that any amount of fox personness that can replace the void where Zangetsu used to be.
NO NOT EVEN THAT AMOUNT OF FOXNESS
There's one shard of being Ichigo may have
lost
. He's a fullbringer shinigami hollow quincy fox person, but does he retain a shred of humanity? This, my friends, is questionable, given his arbitrary mood swings from STOIC UNDERSTANDING to SHOCKFACE and back again, cycling between his sole two emotions when it's convenient to the plot (is this scene meant to be strengthen his resolve or rattle his core?).
Can I be another person please

.

I have a D20
Hey Ichigo, we the readers know everything about your life now. And we did NOTHING TO STOP IT
GINJOU IS COMIN' FOR MAH RAMEN, WHERE'S A SWORD
That's right. We're all as bad as Aizen, Urahara and YHWHccchhh
I guess sometimes you have the gag expression too, but it doesn't count unless one of these days by some miracle of miracles Kubo stumbles upon a joke that's funny (whatever you do don't take pointers from Kishimoto, the king of painful forced humor).
In conclusion, Ichigo may be a blade, but he ain't the sharpest one, and he may want to level up his other classes before gaining yet another one.