BLEACH hasn't been faring very well in the JUMP Table of Contents for a while now, and its volume sales, while still respectable, are slipping as well. And yet it seems like, as a series, it's simply rolled into so much moss that the editors have let it continue rolling down the hill on the condition that this is the "last arc." Oh, they've attempted some life support. There was a stretch where BLEACH got color pages every other week, but by now they've probably realized that first aid spells, far from helping, only succeeding in doing bonus damage to the undead. Here are all the color pages since the beginning of the Quincy blitzkireg, complete with my snarky ass captions.
"The final war us readers have been toothing after since the beginning--can Ichigo finally defeat Zangetsu!?"
Did we just stumble on some back-alley drug deal here
Remember ol' Twerpy here? I guess he was going to be a thing? Was he meant to serve as a normal shinigami companion to ground the horrors to come? Or was he a one-off character meant to humanize shinigami before throwing them to the slaughter for effect? The only thing we can be certain of is that he's totally Aizen. He is Aizen, and also he is totally this guy:
AIZEN SOUSUKE
Ichigo got his bed invaded by more than just the yellow ammonia of his night terrors (it's tough living with a monster inside you that's also smarter than you) as the Nazi Quincy menace came to pluck the bankai he was apparently better off without anyway. This spurred him to nonplussed action:
"...I said, it's NOT A TRIVIAL MATTER, ICHIGO. Ichigo? Ya there buddy?"
The Hueco Mundo plot was so crucial that, in one memorable panel, Chad managed to finally let out the fajita fart that had been building in his right anus of the devil since Chapter 181 (again, you need to read between the lines to see it, but trust me). The Gotei 13 were also caught completely off guard by the Quincy invasion, because their highest priority was grinding Rukongai souls into a computing machine they hoped (in vain) would finally crunch the numbers and solve how it is Yamamoto fights with the world's most flammable facial hair.
Rose and Kensei are new! Their favorite hobbies include not mattering and who cares!
Sasakibe got a funeral for having three lines in the series. Kira, on the other hand, rounded off his plotline of chronic depression by
being completely vindicated in his low self-esteem.
"Okay, I see one of two things happening right now. Either 1) You guys all work together and go the extra mile to make sure I get the very best medical treatment or 2) You send me off with tears and fanfares in equal measure."
This was all the work of an evil, malevolent big game hunter-looking Teuton titan by the name of Yhwach. He just had to end his 999 year slumber at the exact period Ichigo could have lead a happy life for the rest of his days.
"My first command to my children was that they shave my countenance so that it may fit my godliness. So many tries to get it right. So many lives, wasted. I detest violence."
Yamamoto, however, is slightly more geriatric than any given Italian politician, and so it was his time to snuff it and join the choir invisible.
Good night, sweet officious tyrant who literally twisted the ashes of his victims into an unholy legion
Not a one of these is within the catalog of expressions made by human beings.
How about finally revealing Kenpachi's sword release? Perhaps this will vindicate the series! Or, at the very least, bake some bread to go with those circuses! Behold, that which received actual build-up! Behold... NOZARASHI!!
MERCHANDISING!
That's right, merchandising! Where the real money from the manga is made! I cooked up some pitches for the execs over at Shuueisha, tell me what you think!
*Gremmy the action figure
"No, you get your Gremmy hands off my grubby!"
Have you ever seen your kids mashing their hands into each other's faces over a single Batman figurine? Wonder if there's another way? You're in luck! Introducing the Gremmy action figure!
*Ichigo's Hood of Confused Identity!
Perfect for those formative years!
*Baby's First God-Baby!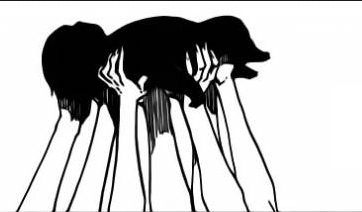 Also great for slumber parties!
Shake your God-Baby vigorously for maximum canonicity! He won't put up a fight, and God only knows how much Lord YHWACH's fragile, cherubic form must have rocked when all those shit-encrusted peasants caressed him with their vomitous wounds! Think of all the putrid gangrene that flaked from their leprous arms into the soft plate of his now partially open skull! It explains his battle strategies to a tee, as well as Gremmy's upbringing.
*Rukia's "Absolute Zero"-Brand Ass Peaches!
Ever snap your incisors on a frozen peach? I'm an English teacher in Japan and I eat with the kids nearly every day! When you see that super special peach next to your soup and rice, trust me, your teeth's life flashes before their eyes! So why not amplify that thrill with Rukia's Rosy Cheeks of Absolute Zero? It'll teach your children to conquer their fears by assuming a zombie-like state of half-death! Not that some kids haven't already mastered that! Thanks Rukia!
*The Rose Star-Hole Puncher!
For use with riot police!
"I've heard of fast-track weight loss schemes, but this is RIDICULOUS!!"


*As Nodt-brand fear drugs!
Prank your friends by making them think they've sprouted ten billion eyes, each more horrid than the last!
"Where did it all go wrong? I should have just joined the paranormal club at school, man."
*Architecturally marvelous sideways housing, to be demolished days after construction!
Japan's housing is notorious for getting demolished after single-generation occupancies. Think of the publicity that would be generated when those families finally settle in to their sideways apartments, only for them to be told it was a lie all along! In comes the wrecking ball. Now, if you share my vision, you're already picturing the BLEACH logo on the wrecking ball!
That'll be my pitch to the execs. Wish my luck! See you on the next installment of Attack From Behind in September 2019, when Kira fights Bazz-B and dies again!
Kubo: They said 'color' page. Note the singular.